COLLEGE FINDS SOLUTION FOR
REMOTE BUILDING MONITORING AND CONTROL
Web-Based Appliance Extends Reach of Maintenance Staff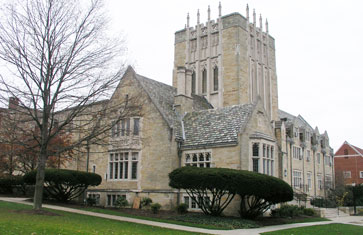 "This is a technology we need to be using." That's the conclusion of James Wendelschaefer at Grove City College regarding a novel solution for remote building sensing, alarming and control. The school, a small and highly regarded college in western Pennsylvania, is approximately an hour north of Pittsburgh and has an enrollment of about 2,300. Wendelschaefer is the director of the physical plant for the school, which has a history reaching back to 1876. The college is known for its commitment to Christian principles and its rigorous emphasis on cultural literacy and liberal studies.
SMALL STAFF, MANY BUILDINGS
According to Wendelschaefer, the attractive hilly campus encompasses 30 buildings, most with heating and cooling systems. Some of the campus buildings are served by a central steam and chilled water plant. Others, notably the main administrative building, Crawford Hall, have independent systems. The challenge that faces Wendelschaefer is that his campus maintenance staff has only two HVAC specialists. He smiles, "Sometimes we're stretched pretty thin."

He explains that the physical plant department looks for ways to work more efficiently. One continuing challenge is the need for staff to make numerous trips to outlying campus buildings to adjust thermostats, check equipment, and respond to changing needs of building occupants. An example he gives is the school's football field house, which is heated throughout the football season.
The temperature is set down after the season is complete. "But numerous times in the winter and early spring, the athletic department has recruiting prospects visiting, or has other short-term events going on, so they want the heat brought up."
BUILDING VISITS CONSUME STAFF TIME
"Each time, a physical plant staffer has to drive to the field house and set up the temperature, then later set it back down." Wendelschaefer notes that each trip takes staff time and takes people away from other necessary work. He adds, "This is just one example of the kinds of tasks we have with building temperature set points. A standard setback thermostat wouldn't help because the changes are often irregular. Plus, we need to periodically check the operational status of the individual building heating and cooling systems."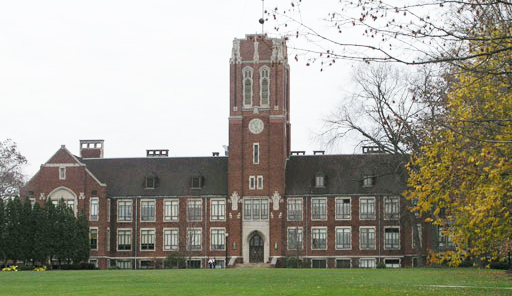 Wendelschaefer discussed these issues with Jim Jancse, manager of the service division of Renick Brothers Mechanical Contractor, Inc., of Slippery Rock, Pennsylvania. Jancse is a controls specialist and had just learned about a new web-based device for remote system control, which he brought to Wendelschaefer's attention. Jancse also talked with his distributor's representative, Ken Smyers, sales engineer from the Edward C. Smyers Co. of Pittsburgh, and they concluded that Jancse's idea had merit.
NEW CONCEPT STUDIED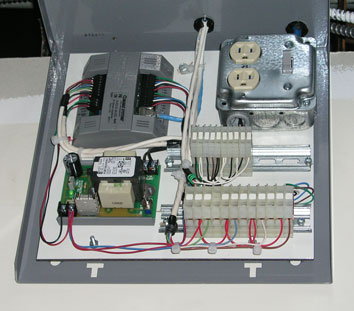 The concept was to use a web-based control appliance called Maverick, manufactured by MAMAC Systems, Inc., of Minneapolis. This newly introduced tool can be installed anywhere there is an Internet connection. It accepts digital and analog inputs from a wide range of sensors. It also has relay outputs that can control a wide range of devices.

The appliance is about the size of a programmable thermostat and can be mounted anywhere in the building. It simply requires an Ethernet connection to the Internet. No dedicated computer is required because the appliance has an on-board web server. Most college buildings have this type of Internet service. Wendelschaefer was immediately interested in trying the device, and had a trial unit installed in his office suite in Crawford Hall.
COMFORT SETTINGS ADJUSTED REMOTELY

This unit monitors space temperature, and can check the functionality of the air handler that serves the space. Comfort settings can be adjusted, and the unit is designed to send an e-mail alert if preset comfort parameters are exceeded. The alert can go to any online computer, PDA, or even a cell phone with text messaging.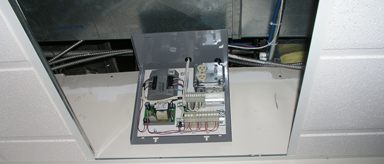 Ironically, the Maverick unit was installed above a suspended ceiling in an office space where there had previously been water damage from an air handler freeze-up that hadn't been detected until pipes burst. According to Smyers and Jancse, this is exactly the kind of problem the online alarming feature can help prevent. Wendelschaefer saw the capabilities and was immediately impressed.
SEES IMMEDIATE APPLICATIONS
He explains that some of the newer buildings on campus have automation systems with DDC control. "But there are other buildings, typically smaller and older buildings that have no control systems, just thermostats. I see these as targets." He notes that from what he's seen in the brief trial with the Maverick, there are at least six buildings that could be fitted with such systems right away.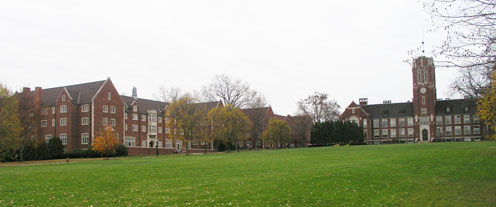 In addition to the buildings on the contiguous campus, there are other college facilities that are some distance away. Examples are an observatory 60 miles north in Edinboro, Pennsylvania, and a bookstore 60 miles south in Pittsburgh. Wendelschaefer currently intends to equip both facilities with the web-based appliances. "There's a real benefit here where otherwise you'd have to take someone off the campus for a half-day just to do an equipment check or to change settings."
MEETS COLLEGE EFFICIENCY GOAL

"It's just the right thing to do. It saves labor, saves vehicle fuel, and saves energy." Wendelschaefer notes that the college places a high priority on energy efficiency, and the Maverick appliance enhances this strategy. "For example," he says, "we can quickly set down the comfort settings for dorm rooms during school breaks, but can override this when we have the dorms occupied by other visitors. We can even use this system to control water heating and architectural lighting."
According to Ken Smyers, Wendelschaefer's enthusiastic reception of the web-based appliance is not unusual. "I'm hearing this from other people, too. This system fills a gap that has existed for a long time between full building automation systems and thermostats." Smyers explains that, as at Grove City College, operators of other small- and medium-sized buildings often feel they can't justify the expense -- $10,000 to $50,000 – for a full automation system. Such a system may have a long or non-existent payback.
MEETS A CRITICAL NEED
But these operators badly want remote status information and alarming, and they want to be able to take a few simple steps to initiate equipment operation. They also would like to be able to remotely adjust scheduling for building comfort systems. An Internet appliance like the Maverick gives them that option for a few thousand dollars or less for the entire installation.

Smyers also points out that full automation systems usually require a significant amount of training of a dedicated staff person. "But systems like the Maverick are so easy to set up and use, and very little training is required." As an example, he points to Grove City College, where the tentative plan is for the administrative staff member who books dorm rooms for off-session use will, as part of his/her routine, schedule the comfort system to come on when the room is occupied.
STILL FINDING NEW APPLICATIONS

Smyers and Jancse both point out that this approach doesn't meet the needs of every building. Jancse says, "There are, of course, facilities where a full automation system is the best way to go. But for a lot of applications, this is a great solution." As with any new technological solution, owners are still finding new applications, new approaches. Wendelschaefer says, "The opportunities with this – it just makes you start to think. You are limited only by your ingenuity."