LIBRARY SYSTEM DISCOVERS NEW HVAC TOOL
Web-Based Control Appliance Serves Small Libraries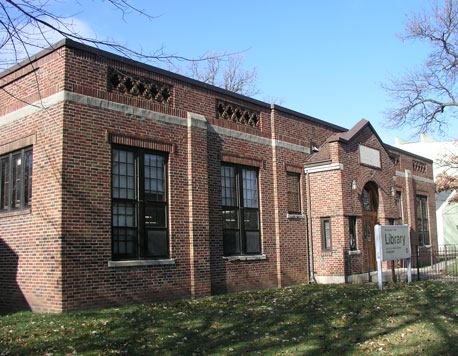 In many ways, public libraries are more relevant today than ever before. Modern libraries are multi-media resource centers, providing not just books, but also recorded music, documentary videos, computerized learning tools, and access to the Internet. The challenge is keeping these facilities available to users on ever-tightening municipal budgets. A new strategy of web-based control of library buildings provides savings on both energy and labor costs. This frees up budget dollars for needed library program resources.
NEW TECHNOLOGY TO CONTROL COSTS
The Roosevelt Library in South Minneapolis is an example of how public library systems can use a new monitoring and control technology to reduce operating costs and improve building comfort systems. An economical and flexible new web-based technology seems to have great potential for widespread library system use.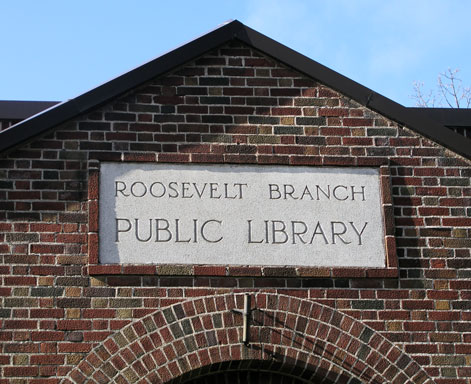 In the beginning of 2008, the Minneapolis and Hennepin County library systems merged in an effort to provide all residents with better library resources at a lower overall cost. Hennepin County, with a population of over one million, is Minnesota's largest, and includes the City of Minneapolis and 45 other municipalities.
In addition to a new Central Library facility in downtown Minneapolis, the combined library system operates 40 satellite libraries of varying sizes throughout the county. Roosevelt Library is an example of one of the smaller and older satellite libraries, comprising 4,500 square feet in a single-story brick building that dates to 1920.
TYPICAL OF SMALL, OLDER LIBRARIES
According to Hennepin County Senior Facility Operations Manager, Nathan Lief, this branch library is an example of the challenges facing the system. "The library is only open three days a week, but we need to make sure the heating and air conditioning systems are working properly. In the past, we had a facilities person who could check the building and adjust the simple dial thermostat daily. We no longer have the staffing for this, so we have to look for other ways to monitor the building."
Dave Bancroft is a senior facilities electrician for Hennepin County and is responsible for numerous branch libraries and public safety facilities, including Roosevelt Library. He explains that Roosevelt Library has two rooftop air conditioners and a steam boiler for heating. "We need to be able to monitor those systems to make sure they're operating correctly. With the building closed nights and four days a week, we also want to be able to program setback temperatures to reduce energy costs."
NEED MORE THAN THERMOSTATS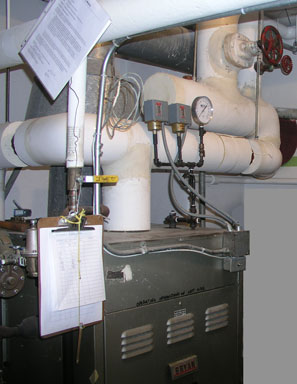 Lief notes that a couple of good setback thermostats would meet the need for setback during unoccupied periods, but wouldn't allow the facilities staff to remotely monitor operation. "And it is difficult to justify installing a full-blown building automation system with remote access for this small of a building. For our large facilities, a traditional building automation system makes sense. But the payback is not there for our small buildings."
That's when they learned about a simple web-based appliance named, Maverick, produced by MAMAC Systems, Inc., a well-known Minnesota manufacturer of sensors, transducers and control peripherals for HVAC applications. Lief says, "We looked into it and liked its capabilities."
EASY SYSTEM INSTALLATION
After consultation with MAMAC, they decided to try such a system at the Roosevelt Library. Bancroft worked alongside an electrical contractor to install two of the devices, and he and Lief learned how to program the units. Bancroft says, "They turned out to be very simple to install, program and use." He adds that this type of network appliance is a natural for libraries, because it only needs a connection to the Internet, and libraries already have such a connection in place.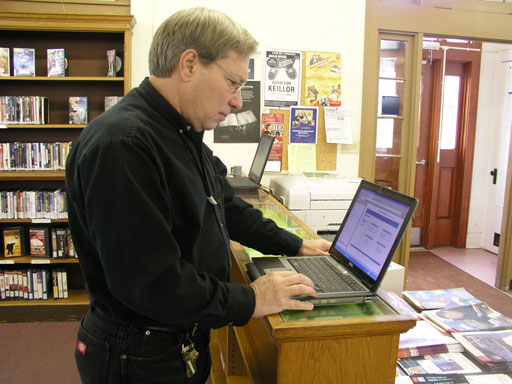 The Maverick appliance is small -- about the size of a programmable thermostat. Units are available with four analog or digital inputs and four relay outputs (Model 44), or with eight inputs (Model 80). Thus it can be used for pure building monitoring, or for monitoring and control, as at the Roosevelt Library. The library installation uses multiple temperature sensors and a humidity sensor input, and the relay outputs control the boiler and two air conditioners.
AN AFFORDABLE SOLUTION
Lief says that a good part of the attractiveness of this type of system is its affordability. He explains that Hennepin County has long experience with building control systems. "We can justify spending $500 to $2,000 in a small building, but it is much more difficult to justify $10,000 to $50,000 for a full automation system. It has been a good fit for our smaller buildings and simpler applications: It meets our needs at an affordable price." Lief points out that in many cases, this product can be installed without any capital expense, treating it simply as maintenance expenditure.
CONNECTION TO INTERNET VIA CABLE
The Maverick units are connected to the Internet via an Ethernet cable, and are continuously available for monitoring information or making system adjustments.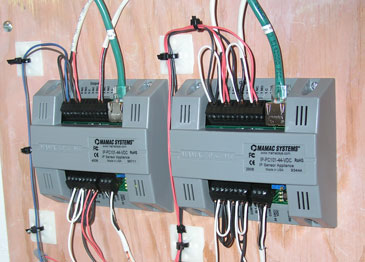 According to Bancroft, one of the attractive features of the appliance is its ability to send out email alarms to computers, PDAs, and even cell phones when a building parameter goes out of its set range. "If the boiler quits, I'll get an email on my computer and a text message on my cell phone. That's a great feature."
The Maverick has its own on-board web server, so an on-site computer connection is not needed, and the system requires no software installation. All of the necessary logic is built into the unit. According to Bancroft, learning to set up the system was simple. "We were pleased to learn that Maverick is not a system that we will need to continuously update or be trained on newer software versions."
ADDITIONAL INSTALLATION PLANNED
After the initial experience with the Roosevelt Library, Hennepin County is already scheduling additional installations in six other libraries and studying other possible applications. Lief says, "This won't do everything a full automation system would, but it seems to be a good solution for buildings less than, say, 10,000 square feet. Plus, we like its ability to do data logging."
In one of the upcoming installations, a Maverick unit will be installed in a library building where an existing HVAC time clock has failed. Lief notes, "It's actually less expensive than a replacement time clock, and it gives us the remote monitoring and logging capabilities."
CHECK STATUS ON LAPTOP ANYWHERE
Bancroft points out that his laptop computer will log into wireless systems at most of the buildings he visits, so he can check on the status of his assigned buildings that have Maverick installations, and can receive alarms at any location and time, including nights and weekends at home. It reduces a lot of running around from site to site to check on systems.
Bancroft also explains that if librarians have concerns about building comfort, then they can call the central facilities office, and a technician there can check building conditions on the spot and make any necessary adjustments remotely. He points out that sometimes libraries have special functions outside of their regular hours. They can arrange to change building comfort levels in advance, without needing to send in a technician to override a setback thermostat.
WIDE RANGE OF APPLICATIONS
Is this Internet appliance the solution for every building? Nathan Lief believes probably not. "It won't do everything an automation system can. However, we have buildings where we can't justify a full automation system, but need more than just a simple thermostat. This seems to be an economical answer for those applications."
At the Hennepin County Library System, as users become familiar with the Maverick appliance control concept, more and more applications pop up. Other ideas include controlling building ventilation, humidity management, architectural lighting, and use of the tool for temporary energy studies. The features of remote alarming and control, and data logging and flexible energy scheduling are attractive. Most important is the goal of economically meeting the changing needs of library building users.