PITTSBURGH RESTAURANT COOKS UP A SOLUTION
Web-Based Control Appliance Assures Customer Comfort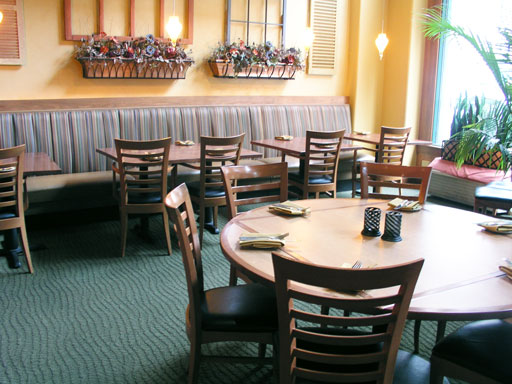 The website of the Sonoma Grille describes the Pittsburgh restaurant as "a sophisticated, casual restaurant with an airy dining room, hip diners and a display of vivid colors, reminiscent of the Sonoma Valley." It suggests that visitors should "savor a glass of wine in our lounge, overlooking a towering collection of wine or spend a leisurely evening pairing the wine with a delightful dinner." In other words, come prepared to relax, be comfortable and enjoy a glass of fine wine and a distinctive meal. The second part – be comfortable – is crucial for owner, Yves Carreau. He explains, "We don't want our guests to even be thinking about the room environment. It has to be perfect."
A MEMORABLE RESTAURANT EXPERIENCE
The Sonoma Grille is a new, high-end restaurant on Penn Avenue in Pittsburgh's Golden Triangle, adjacent to the busy Cultural District. According to Carreau, his goal is to make each visit to the Sonoma Grille memorable. It is ideally situated, close to downtown Pittsburgh businesses, stores, theaters and sports venues. It occupies a portion of a building that also houses a major hotel.
As its name implies, the restaurant features an eclectic California cuisine and a wide selection of fine wines from California and elsewhere. The entire facility is heated and cooled by six five-ton horizontal water source heat pumps (WSHPs), which in turn are served by a HVAC water loop from the adjacent building. Additionally, there is one air-cooled cooling unit.
CUSTOMER COMFORT A PRIORITY
The restaurant has a managed HVAC maintenance program through Quality Mechanical Services, Inc., (QMS), of Verona, Pennsylvania. Understanding that the owner places a high priority on assured customer comfort, Tim Penatzer from QMS looked for a method of monitoring the heating/cooling units to anticipate any potential problems.
Penatzer observes that the overhead WSHPs have the advantage of great zone control and high efficiency. They avoid the need for a dedicated space for a mechanical room. However, he notes that because the comfort units are located in the space above the ceiling in the restaurant, any service work during restaurant serving hours would be highly disruptive to the distinctive atmosphere. "We knew we couldn't wait until the space was uncomfortable to be notified that service was needed. We needed a way to monitor the system and get a fast alarm if there were problems." He adds that without an early warning, by the time a maintenance crew arrived to troubleshoot a problem, it might be too late to avoid disrupting restaurant operations.
LOOKING FOR AN ALARM SOLUTION
Penatzer brought this challenge to Ken Smyers at the Edward C. Smyers Co. in Pittsburgh, a well-known local distributor of controls and equipment. Smyers had recently learned about a new product known as the Maverick, a web-based control appliance manufactured by MAMAC Systems, Inc., of Minneapolis. This newly-introduced tool can be installed anywhere there is an Internet connection. It also has relay outputs that can control a wide range of devices.

According to Smyers, this solution is ideal for applications where the customer doesn't want or need a full building automation system, but wants remote access to operating data, and needs to receive an alarm when the conditions go outside preset levels. Smyers says, "This is a common situation. Automation systems are great for larger facilities, but require a major investment. Yet for smaller spaces like this restaurant, just a programmable thermostat is not enough, especially if there is a need for remote alarming."
Smyers is enthusiastic about the potential of the web-based alarm, data and logging capabilities of the Maverick. "We know there are a lot of applications that would benefit from the alarm features, and would benefit from being able to remotely view and even operate equipment."
NO COMPUTER REQUIRED
The appliance is about the size of a programmable thermostat and can be mounted anywhere in the building. No dedicated computer is required because the appliance has an on-board server. This was the solution that Smyers proposed. Penatzer also had a chance to see the Maverick unit at the 2009 AHR Expo. He says, "This idea really made sense right away. We took this approach and are very pleased." With the concurrence of restaurant management, the Maverick-based system was installed.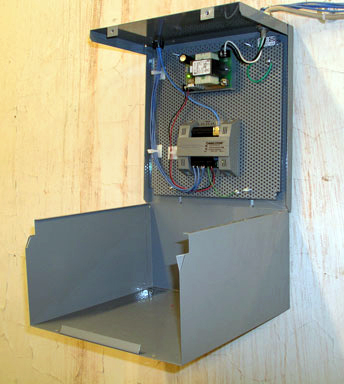 Penatzer notes that with the Maverick in place, QMS will know when a unit needs attention immediately, long before any discomfort is experienced by restaurant diners. In this way, maintenance can be planned for a time when the restaurant is not serving customers. He adds, "Now we can schedule our maintenance crew for a time slot that is better for our people and for the restaurant."
The Maverick appliance is available in two formats, the Model 44 with four sensor inputs and four relay outputs, and the Model 80 with eight sensor inputs. The Model 80 is used for data logging and alarming applications, and the Model 44 is used where a control function is desired. In the case of the Sonoma Grille, two Model 44 devices were installed, with sensor inputs and email alerts from each WSHP unit. The system also has a sensor on the overall loop water temperature. The relay outputs are not currently in use, but are available for future operation.
Another attractive attribute of the Maverick is its relatively low cost. Where a full building automation system might cost from $10,000 to $50,000, the Maverick web-based appliance can be put in operation for a few thousand dollars, installation labor and wiring included. Furthermore, because the operating logic is embedded in the appliance, there is no need for software, updates or training.
According to Smyers, users learn to navigate the browser-based appliance and to input their specific operating parameters with very little training or practice. He adds, "You don't have to have a software specialist on staff. Almost any staff person can learn how to check operation, download data, or reset alarms." Yet the security of the data and settings is protected by each installation having a dedicated IP address and a password, so only authorized persons can view information or change settings.
INSTALLED IN LESS THAN A DAY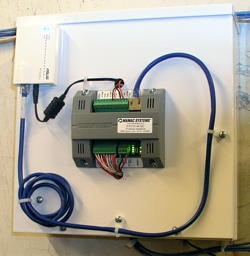 According to Penatzer, the installation of the Maverick units was not an extensive project. They were installed in a matter of hours in an upstairs utility room, but could have been installed almost anywhere in the building. Because of the location of the comfort units in the area above the ceiling, the installation of the wiring to each of the units took additional time.
An intriguing aspect of the Maverick being a web-based system is its ability to send real-time email alerts to designated individuals. These can be received on a computer, a PDA, or even as a cell phone text message. "When we get an alarm message," says Penatzer, "we will respond right away. Probably, we'd go to a computer to check the entire system to determine if it's a single unit failure or a broader problem. We'd dispatch a technician immediately to solve the problem."
SPOTTING TRENDS IN EQUIPMENT PERFORMANCE
Thus far, there have been no alarms for system malfunctions. According to Penatzer, he does periodically go online just to check the system. He adds, "It's reassuring to know that if there is a problem, we'd know right away." The Maverick appliance also logs data, so online users can spot trends in equipment performance, system water temperatures or power outages.
Penatzer is impressed at the flexibility provided by this type of web-connected device, and anticipates using it in other types of applications as well. "We're working on some other projects right now. If you want online data or alarming and can't justify a building automation system, this is a good solution."