Description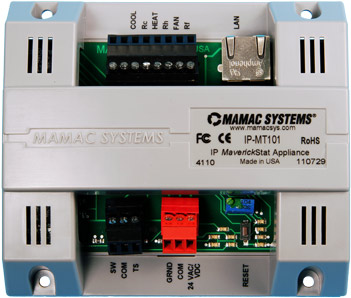 All you need is a web browser running on any laptop, PDA, or cell phone anywhere in the world to view temperature, change heat/cool schedules, monitor status and control a single-stage heating and cooling unit. Email alerts, SMS messages, and data logging capability is also available.
The IP MaverickStat® Appliance incorporates a web server and utilizes an inexpensive remote thermistor sensor to control a single-stage heating and cooling unit. Power the appliance with any 24VAC transformer, plug it into a hub/router, launch any web browser, punch in the default IP and connect. No custom software to load, no discovery routines, no custom cables, or training.

The IP appliance serves up static web pages with dynamic data updates every second or two. Most users can set up and utilize the appliance without any training or support in less than 5 minutes due to the innovative and familiar web browser based configuration.
The MaverickStat® is an ideal low cost solution for light commercial, residential and remote facility temperature control and incorporates four daily temperature schedules programmable for the entire week, four daily fan AUTO or ON schedules and 16 programmable special date ranges. The IP MaverickStat® Appliance also has a remote programmable duration override capability either through a switch on the remote temperature sensor or by using any web browser.